New pages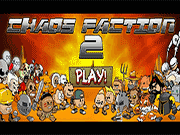 Welcome to New Wiki Name
CF by EON wiki: CF by EON is a game by EON, Kesteven and Smittia. It Contains 18 characters, 29 weapons, 15 levels and 1 game.
the 3 modes
Edit
Chaos faction has 3 modes campaign, deathmatch, and survival. Campaign is where you can unlock cool weapons and characters when you beat the boss of each level in campaign. Deathmatch is a total blood bath with 2 to 6 players at once, see if you will be the first place winner! Survival is where you kill as many guys as you can until your 5 lives are gone then you get to see your score, try to beat your high score your very first time! that all the 3 modes and all the information about each of them so i hope you liked this and have a great day!!!
about the 3 modes
Edit
Campaign is where you can unlock cool weapons and characters for deathmatches. Deathmatch is you versing a couple of computers in a real blood bath. And finally, survival is where you try your best and see how many guys you can kill before you and your 5 lives are up!!! Thank you!
Charakters
Edit
Ad blocker interference detected!
Wikia is a free-to-use site that makes money from advertising. We have a modified experience for viewers using ad blockers

Wikia is not accessible if you've made further modifications. Remove the custom ad blocker rule(s) and the page will load as expected.